Thursday, 01 March 2001 00:00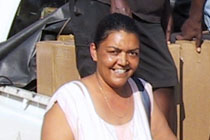 Penny says that KUNZWANA is one of the best things that has happened to her. She found her life partner, Ish, at Sebungwe near Siachilaba and they have a son, Tallib.
Penny is the Operations Manager for Kunzwana. She was based in Binga until the end of 2004 and relocated to Harare due to family reasons, where she is representing Tonga.Online project.
Penny Yon
Kunzwana Trust
73 Quorn Avenue
Mount Pleasant
Harare
Zimbabwe
Tel: 263-4-742065
This e-mail address is being protected from spambots. You need JavaScript enabled to view it