Thursday, 01 March 2001 00:00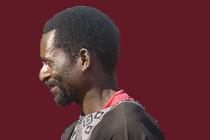 David is 42 years old and married, speaks four more African languages besides his native CiTonga and masters excellent English of course.
As an artist in various fields he holds a ZACT Certificate in Arts & Culture administration and has been working for Ntengwe. He has been involved as a consultant and resource person for some other cultural and educational projects.
(see
Binga
)

David Mungombe
Tonga.Online Project
Binga High School
P Bag 5722
Binga
Zimbabwe

Tel: ++263-15-573
This e-mail address is being protected from spambots. You need JavaScript enabled to view it