please select slideshow below
Good start into 2018 for Zongwe FM in Sinazongwe / Zambia
Text
Thursday, 01 February 2018 17:04
Zongwe FM station manager Kennedy Kein wrote on 19th January: "our radio has been granted a funding by the (Rural District) Council to build the new radio station up hill (on the Boma). We therefore ask for material support such as adjustable microphone stands, microphones and just other things you mighty think of supporting the radio station. Regards to all the friends in Austria".
Read more...
Connectivity at the Bottom of the Pyramid
Text
Sunday, 24 December 2017 10:00
Last year, my colleague Kate Meagher and I organised a conference at the Rockefeller Conference Centre to explore the opportunities and challenges presented by digital technology technologies and projects for informal workers at the Bottom of the Pyramid. We focused on four sectors central to ICT engagement in African informal economies: agriculture, business process outsourcing (BPO), mobile money and transport.
Read more...
Inspiring donation for Siachilaba Women Photographers Association
Text
Monday, 11 December 2017 14:42
Another Photography Workshop was held end of September by photo artist Calvin Dondo. It provided not only some refresher of past exercises but also some training with new equipment donated by AZFA, cheering the morale of the group which is facing some difficult circumstances and searching for a permanent studio space. The workshop was attended by Hedi and Peter Kuthan / AZFA.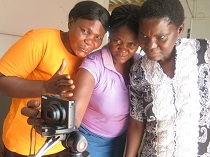 Read the report by Calvin Dondo:
Read more...
Women sharing crucial information across Lake Kariba via radio
Text
Friday, 23 September 2016 19:11
Zubo Women on-air at ZongweFM in Sinazongwe / Zambia: The sampler of four tracks presents excerpts from recent live shows on the community radio station Zongwe FM in Sinazongwe / Zambia. While broadcasts are still continuing, the sampler already shares a "teaser" for the release of all the 10 live shows in full.
source / listen: https://archive.org/details/Zubo_Women_on-air
Read more...
ZONGWE.FM broadcasting again
Text
Saturday, 28 May 2016 14:44
Good news from Sinazongwe Community Radio - Ngazi yamano. After a long period of suspended services due to problems to obtain the relevant licensing the station is back on air and the management board sent the following progress report.
Read more...
UN's historic freedom of information agreement
Text
Monday, 28 September 2015 16:07
By Christian Gramsch, Director DW Akademie, Bonn / Germany
The most crucial item carried by most refugees on their difficult journeys are their smartphones. Why? Because smartphones are sources of vital information – for mapping routes, receiving updates about the political situation, making their journeys safer, and hearing from their loved ones. Smartphones also allow refugees to share their experiences and communicate with others. Here we are talking about fundamental human rights: the right to freedom of movement, the right to physical integrity, the right to family, and the right of freedom of expression and information.
Alongside other basic rights, the United Nations has included the right to access information as part of their Sustainable Development Goals (SDGs), which were adopted this past weekend at the UN Sustainable Development Summit 2015 in New York.
This is a historic step.
Read more...
one man - one note. ReCalling Siachilaba
Photo
Sunday, 09 August 2015 19:14
exhibition in Strobl, Kunsthaus Deutschvilla
Gwanza Photography Workshop empowering Women in Siachilaba
Text
Monday, 16 December 2013 17:11
The photography workshop was conducted 5-7 November 2013 to empower rural women in Siachilaba / Binga with photographic skills so that they can tell their own day to day experiences through their own eyes. Since most of the pictures we see are taken by the foreign media and strangers to their community, this was an opportunity for the women to learn how they can document and give a true reflection of their plight through photography.  It served as a preparatory stage of the cultural Tales of Resilience project which involves, the Tonga community in Siachilaba / Binga, Basilwizi Development Trust, AZFA, Tonga.online, Time's Up, an artists organisation based in Austria and Gwanza, an organisation which promotes photography in Zimbabwe, based in Harare.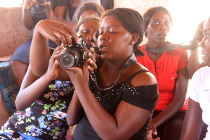 Read more...
Fostering social accountability through community radio
Text
Tuesday, 16 April 2013 09:55
By Lilian Kiefer / PSAf


GOOD governance focuses on the extent to which governments enact and implement policies in the interest of all citizens and the effective translation of public resources into public services. Decentralisation, a process of redistributing or dispersing functions, powers, people or things away from a central location or authority allows for popular participation in implementation of policies ensuring interests of all citizens. This process is key in ensuring good governance as it allows for citizens' participation in the planning and policy-making as well as implementation systems which would otherwise be highly centralised.
Read more...
Twaabane Times - Sharing Information
Text
Wednesday, 25 April 2012 06:32
The newsletter Twaabane Times' name is derived from a Tonga word: "Twaabane" which means "sharing". This newsletter is called as such because its intention is to improve information dissemination, sharing and access to ICT in the Zambezi valley. It is prepared and published by Tonga.Online ICT and Cultural Promotion Project. The project operates under Basilwizi Trust.

It covers salient events that happen in the Zambezi valley. These stories are expressed in the form of poems, news stories and word puzzles. These stories, poems and word puzzles are written by well trained media club members from 10 Information Technology centres (ITCs) around the Zambezi valley.

This month's issue has hot stories that may give you a hint of what is happening in Binga and Information Technology centres which closely work with Basilwizi Trust. Gowing through them would surely be worthwhile...

more: http://www.basilwizi.org/
Women Filmmakers Festival in Binga
Text
Tuesday, 15 November 2011 18:02
Women Filmmakers of Zimbabwe (WFOZ) is excited to take the International Images Film Festival for Women (IIFF) outreach to the Matabeleland North town of  Binga for the first time. The project will take place from the 5 to the 8 of December 2011 where local films will be screened to the Binga audiences. Located in Matabeleland North, 450km away from Bulawayo, Binga district has a population of about 118 842 people. Targeting an audience of about 5000 people, IIFF will screen the films
Nyami nyami amaji abulozi
(Nyaminyami and the Evil Eggs
), Peretera maneta
(Spell my Name) and
I Want A Wedding Dress.
Each film is specifically chosen for the community because of its theme, content and relevance. 
Nyami nyami
is an adaptation of ancient Tonga folklore.
Peretera maneta
tackles child sexual abuse, while
I Want A Wedding Dress
focuses on HIV and AIDS and behavioural change, particularly amongst young people.
Read more...
Siabuwa Solar Project installation
Photo
Thursday, 02 December 2010 21:29
Ars Electronica: Deep Space LIVE
Text
Wednesday, 12 May 2010 20:48
Theme: "Between Rapacious Self-Interest and a Clear Conscience"
Linz / Austria
May 20, 2010 / 8 PM
@ Ars Electronica Center

Peter Kuthan (sociologist and chairman of the Austria
Zimbabwe Friendship Association) and Horst Hörtner (director of the Ars Electronica
Futurelab) will host a Deep Space LIVE presentation and discussion
"dedicated to emerging ideas, promising visions and countervailing concepts".
Certainly, Tonga.Online will be a reference point for these elaborations.
Read more...
Contribution to education Highway
Video
Saturday, 20 November 2004 19:44
Contribution to education Highway, a lecture about Tonga.Online - see video (in german), read more .
Interview for 8goals4future
Video
Saturday, 20 November 2004 19:40
See video of interview Keith Goddard and Hedi Kuthan for 8goals4future read more
Interviews by Theo Sianyuka and Isaac Munzaba
Text
Wednesday, 23 July 2003 20:54
Radio Interviews
with Isaac Munzaba, National FM, ZBC
and Theo Sianyuka, Tonga.Online Project
23 July 2003
Topic: Youth and Computers
Read more...
Audio
Sunday, 01 December 2002 00:00
listen to Andachtsjodler by Binga Highschool Choir + Otto Lechner & Windhund
see windhund tour for more info