ITC General + Stakeholder Updates
Information Technology Centers ITCs or so called Telecenters
In 2000, World Links introduced its Telecenter model to encourage school lab sustainability while promoting community development. World Links openned telecenters in Uganda, Zimbabwe, Mali, India, and Brazil. Though different in every country, the typical World Links model is an important source of local-level program sustainability to underwrite recurrent costs associated with the technology and to improve community-school relations. Equally important, this model extends the benefits of technology, the internet and life-long learning to the entire community for a wide range of development applications.
World Links telecenters are either school-based computer labs or community centers that are converted into telecenters for the purpose of introducing ICT skills and IT-enabled resources to underserved communities, with the intent of enabling adults and youth to participate successfully in the global knowledge-based economy. To that end, World Links empowers both the school and general communities to convert school-based computer labs or community centers to self-sustaining community-accessible technology learning centers. Increasingly, World Links has been introducing its telecenter model to non-school structures, including government offices, community centers, and NGO offices.
While every World Links Telecenter is different, all World Links Telecenters focus on capacity building for several population segments, within and outside the school. At the school level, World Links builds capacity in principals, teachers, and students to manage the day-to-day operations of the school-based telecenter; this facilitates the building of entrepreneurial skills. Outside the school, the telecenters focus on introducing ICTs and IT enabled resources to underserved populations. To that end, World Links telecenters have provided communities with access to information on health, environment, and agricultural issues, while creating a safe, secure, and inviting environment for under-reached populations such as out of school youth, women, and senior citizens to acquire IT skills.
A World Links Telecenter is a combination of a computer lab and a private Internet cafe. Whereas a computer lab's purpose is pedagogy, and an Internet cafe's purpose is profit for sustainability, a World Links Telecenter seeks to fulfill both pedagogy and sustainability. At no point, however, will the quest for profits ever overpower the desire to diffuse technological knowledge. The profit-seeking nature of a World Links Telecenter exists solely to further its educational mission.
Sustainability of World Links' telecenter programs is achieved in several ways. While some World Links telecenters achieve sustainability through guaranteed government support for all recurrent expenses, other centers develop solid revenue generation models to support ongoing costs. In all instances, World Links works closely with key stakeholders to ensure that expenses are being met in the long term.
The Tonga.Online Project has been collaborating with World Links since early 2001 in the establishment of ITCs at Binga Highschool, Siansundu Secondary and Siachilaba Primary School in Binga area in Matabeleland North. After the donation of computers by President Mugabe to some other schools in the district there is potential to expand the network of ITCs further and to reach out to even remote communities. In 2006 the first ITC across the lake on the Zambian side of the Zambezi Valley at Sinazongwe Basic School was established.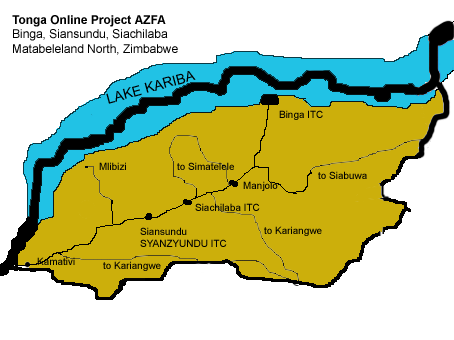 Stakeholder update: January 07

Monday, 05 March 2007 17:27

We hope that 2007 will bring new development prospects and open channels to accumulate resources to provide ICT in the community and bridge the digital divide that is still existing between the urban elite and the rural poor. The activities in the month of January started at low profile mainly because all efforts were propelled towards planning for the year. The plans drawn during the month formed the road map which will guide implementation of activities during the course of the year. This report, however generally highlights activities that were accomplished in the month under review.

Read more...

Stakeholders Update December 2006

Sunday, 31 December 2006 16:11

The last quarter of 2006 has been a busy time of development and change, with the Tonga.Online project entering a new and exciting phase of advancement. Following and as a result of the July Strategic Planning Seminar held in Binga, two new posts were created, widely advertised, and resulted in the appointment of Mr Pottar Muzamba as Project Director in October, and Mr Richard Simango as Operations & Technical manager in November. Ms Theophorah Sianyuka remains with the project as Admin Clerk & Trainer, and Mr Sengamo Ndlovu attending Twiimbilane sound studio.

Read more...

Stakeholders Update September 2006

Monday, 25 September 2006 00:00

Tonga.Online has taken steps forward following the review and strategic planning that was carried out in July for the further development of the ICT project in Binga District. Communication for the conduct of a feasibility study for ICT infrastructure development in Binga area is at an advanced stage with some key IT experts like Prof S B Mangena from the National University of Science and Technology (NUST) and AZFA involved.

Read more...

Stakeholders Update June 2006

Monday, 12 June 2006 18:19

Partner Visit: 15-23 July 2006. The annual visit of Austrian partner AZFA and other key partners will take place in July, and the Binga Coordinator is meeting with local authorities and stakeholders in preparation for ITC management meetings and the stakeholders workshop / strategic planning seminar from 15-23 July. It is also planned for the partners to meet with the BRDC IT Sub Committee. They will then go on to visit the project extension in Sinazongwe, Zambia. All local stakeholders and authorities are requested to welcome the partners to Binga and to assist where necessary.

Read more...
«
Start
Prev
1
2
3
4
5
6
7
8
9
10
Next
End
»
Page 6 of 12