ITC General + Stakeholder Updates
Information Technology Centers ITCs or so called Telecenters
In 2000, World Links introduced its Telecenter model to encourage school lab sustainability while promoting community development. World Links openned telecenters in Uganda, Zimbabwe, Mali, India, and Brazil. Though different in every country, the typical World Links model is an important source of local-level program sustainability to underwrite recurrent costs associated with the technology and to improve community-school relations. Equally important, this model extends the benefits of technology, the internet and life-long learning to the entire community for a wide range of development applications.
World Links telecenters are either school-based computer labs or community centers that are converted into telecenters for the purpose of introducing ICT skills and IT-enabled resources to underserved communities, with the intent of enabling adults and youth to participate successfully in the global knowledge-based economy. To that end, World Links empowers both the school and general communities to convert school-based computer labs or community centers to self-sustaining community-accessible technology learning centers. Increasingly, World Links has been introducing its telecenter model to non-school structures, including government offices, community centers, and NGO offices.
While every World Links Telecenter is different, all World Links Telecenters focus on capacity building for several population segments, within and outside the school. At the school level, World Links builds capacity in principals, teachers, and students to manage the day-to-day operations of the school-based telecenter; this facilitates the building of entrepreneurial skills. Outside the school, the telecenters focus on introducing ICTs and IT enabled resources to underserved populations. To that end, World Links telecenters have provided communities with access to information on health, environment, and agricultural issues, while creating a safe, secure, and inviting environment for under-reached populations such as out of school youth, women, and senior citizens to acquire IT skills.
A World Links Telecenter is a combination of a computer lab and a private Internet cafe. Whereas a computer lab's purpose is pedagogy, and an Internet cafe's purpose is profit for sustainability, a World Links Telecenter seeks to fulfill both pedagogy and sustainability. At no point, however, will the quest for profits ever overpower the desire to diffuse technological knowledge. The profit-seeking nature of a World Links Telecenter exists solely to further its educational mission.
Sustainability of World Links' telecenter programs is achieved in several ways. While some World Links telecenters achieve sustainability through guaranteed government support for all recurrent expenses, other centers develop solid revenue generation models to support ongoing costs. In all instances, World Links works closely with key stakeholders to ensure that expenses are being met in the long term.
The Tonga.Online Project has been collaborating with World Links since early 2001 in the establishment of ITCs at Binga Highschool, Siansundu Secondary and Siachilaba Primary School in Binga area in Matabeleland North. After the donation of computers by President Mugabe to some other schools in the district there is potential to expand the network of ITCs further and to reach out to even remote communities. In 2006 the first ITC across the lake on the Zambian side of the Zambezi Valley at Sinazongwe Basic School was established.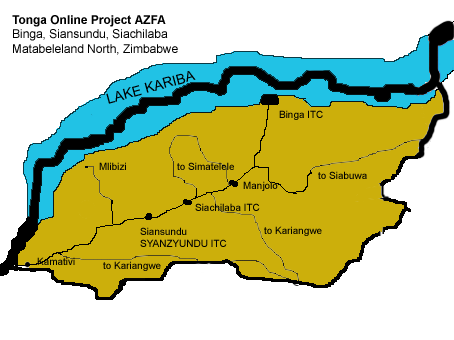 Monday, 17 December 2007 20:06

KUNZWANA Trust, HORIZONT3000 and the Austria-Zimbabwe Friendship Association wish everyone at the Tonga.Online Project and our many allies, friends and stakeholders a peaceful festive season and a New Year of renewed hope. At the same time we would like to thank you all for your valuable contributions and support.

Listen to: Andachtsjodler by Binga Highschool Choir + Otto Lechner & Windhund

still looking for X-mas presents? buy Tonga baskets from Auhof Basket Company; Tonga music / reflections, CDs from Windhundrecords http://www.windhundrecords.com/

Read more...

Stakeholder update: October 07

Sunday, 25 November 2007 13:42
As we gear ourselves towards the advent of a wireless network in Binga, activities have shifted to focus more on capacity building of the human resources in the district. A number of workshops have been run focusing on the Information and Technology Centre (ITC) teachers, heads of schools and the community. More workshops are yet to come. On the cultural front, the chilimba dance is being revived by old women who last participated in the dance as young girls, while in Siachilaba young boys and girls are learning how to make baskets and to blow the nyele horn.
Read more...

Stakeholders Update July 2007

Monday, 10 September 2007 22:02

1.0 INTRODUCTION

With the feasibility document complete and in circulation, activities during this period focused on giving support to the centres in a bid to increase the lifespan of the equipment in the district. There was also the opportunity, as part of Tonga.Online`s cultural exchange project, to facilitate the travel to Zambia of the Group Simonga for the Lwiindi Ceremony.

Read more...

Stakeholders Update June 2007

Monday, 02 July 2007 20:42

As the challenge to network the Information, Technology Centres (ITC) and provide Internet services in the district draws nearer, the month of April was packed with series of meetings and workshops. The goal was to assess and review the magnitude of the work delivered by the project and come up with a tentative plan which will guide the future implementation of activities. Contrary to April, the month of May was dominated by the completion of the feasibility study, i.e. the report writing. This report is very critical to the achievement of the Tonga.Online objectives because it will suggest appropriate options and solutions of approaching further ICT infrastructure development. In light of the above, the report gives an overview of what transpired during aforesaid months

.
Read more...
«
Start
Prev
1
2
3
4
5
6
7
8
9
10
Next
End
»
Page 5 of 12