Thursday, 23 December 2010 19:53
On behalf of Basilwizi Trust and the Tonga Online Project we would like to wish all our friends, stakeholders and partners a Merry Christmas and a prosperous New Year 2011!
Ube amwaaka mupiya mubotu.
Mweende Kabotu!
Twalumba loko, Leza Amulongezye and see you in 2011!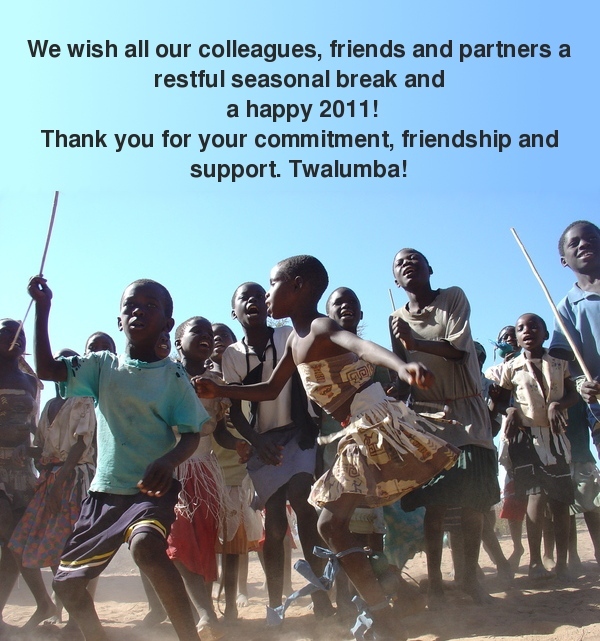 Thanks to the support of Austrian Development Agency ADA and AZFA and in close collaboration with Binga Rural District Council BRDC the Tonga.Online Project has recently established the ICT Public Access Point PAP at the Binga Library. This facility will continue to provide information and relevant training to the people of the Great River in 2011. Plans are already underway for the establishment of an improved internet connection at the PAP and for improved collaboration and networking between schools, Local Government and other stakeholders in the Binga area.

Through the generous support of Rotary International and the Rotary Clubs of Linz and Belmont the Siabuwa Solar Project has been completed just before the onset of the raining season. The Siabuwa Solar project provides now power to the Siabuwa Secondary School and ITC. The teachers, pupils and community of Siabuwa can now enjoy the convenience of utilising the ITC and Study rooms even during the evenings. Thanks to Madison Solar Engineering and NN Joinery for their commitment and valuable assistance.

Our partner HIVOS is also funding and supporting the ICT for development project and the cultural activities of Tonga.Online. Through the support of HIVOS and ADA some ten secondary schools will start to teach computers studies from January 2011. School based ITCs will open for longer hours due to the training of ITC Assistants by Tonga Online. 2011 will see some more efforts to promote the visibility and standing of Tonga culture within Zimbabwe and abroad.

We hope that these developments will continue to bear lasting results and relevant impact for the Tonga community in 2011 and beyond.

Please note that the Offices of the Tonga Online project and Basilwizi
Trust will be closed for business from Friday the 17th December 2010 and
reopen on the 10th of January 2011.

Frank Mudimba, Director Basilwizi Trust, Bulawayo

Richard Simango on behalf of Tonga.Online project, Binga

Peter Kuthan on behalf of Austria-Zimbabwe Friendship Association, Linz