Keith Goddard Obituary
Details

Created: Saturday, 10 October 2009 15:33
Dear all,
With deep sorrow we have been informed that our friend and Director of Kunzwana Trust Keith Goddard passed away last night, Friday 9 October at St Anne's hospital in Harare, where to he has been admitted two weeks ago with pneumonia.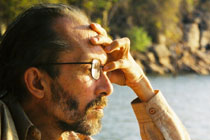 It seems really impossible to believe that Keith has gone. What a great loss to all of us, foremost to his mother Pauline but also for the gay and lesbian community of Zimbabwe, GALZ, for the promotion of cultural exchange by Kunzwana Trust and for the Tonga.Online project and the Tonga community at large. Keith has always been in the forefront in pushing for tolerance and appreciation of cultural and sexual differences in society but was also actively involved in broader human rights campaigning and in the fight for access to affordable treatment for all people living with HIV/AIDS. And he was a composer and promoter of cultural diversity and inter-cultural exchange for many years.

Just five month ago Keith was with us at the Parade here in Linz / Austria, the Cultural Capital of Europe 2009. We have just completed the video documentary which shows him dancing amongst his Tonga and Austrian friends, not only to the tune of Ngoma Buntibe but to the merger of sounds from different parts of the globe. Together we enjoyed the full fruition of our Parade concept. He was so happy about it that he went to the studios the next day to delve again into the sound recordings with the ambition to create another composition out of it.
I feel very sorry that I could not visit him in Harare hospital on my way out from my project visit in Binga last week. I know that the Tonga.Online project was very close to his heart and he suffered also from the uncertainty cast by recent developments.

Despite all odds in recent years, Keith never gave up. When we heard about his illness this very reason left us hoping still. Now we have to accept the unbelievable: Keith has gone. But he will stay with us in our memories, in our aspirations and in our compassion for his mother, colleagues and friends in Zimbabwe.

We offer our sincerest condolences to all of you and assure you of our continued support and collaboration.
A luta continua.

Peter Kuthan                                                                                                                         Linz, 10th October 2009
Austria-Zimbabwe Friendship Association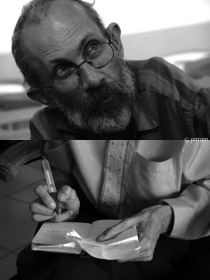 Dear Friends, It is with great grief that we at Tonga Online have learnt about the passing on of Keith Goddard, our Trustee. Our thoughts and prayers are with His mother during this difficult time. Keith will remain in the Thoughts and memories of ALL Binga people for the great love he showed us through the establishment and support he gave to the Tonga Online Project. May his soul rest in Peace.
Richard Simango Technical and Operations Manager Tonga Online P. O. Box 47 Binga
Dear all,

It is with sadness that I learnt yesterday of the passing on of Keith Anthony Goddard.
I got to know him at the official launch of Binga High ITC and over
the years he proved himself to be dedicated to the preservation and
promotion of Tonga Culture, together with his counterpart Peter Kuthan
of AZFA.
His passing on leaves a delicate situation for Tonga.Online and a
challenge to keep the 'wagon moving'.
May his soul find peaceful rest.

Sengamo Ndlovu
Greetings
 
We are sorry to learn about the death of Keith. May his soul rest in peace.
This will be sad news to the valley people and me too because of his interaction, he has gone as a fighting man. 
Let us carry his ambition forward from where he left it till to the end.
 
 
Josiah Moyo / Sinazongwe
Dear Friends and Partners

The Members, Board and Management Committee of GALZ would like to express 
their profound gratitude for your support and comfort during the illness and 
subsequent loss of our beloved friend and Director, Keith Goddard. Thank you 
to all that joined us for the funeral service, your presence was not only a 
comfort but a source of strength for us during this difficult time. 


Linz09 Mourns the Passing of Keith Goddard
Copyright: PNTGM
13.10.2009


Keith Goddard, a big-hearted man who showed us how to persevere where others would have given up and whose accomplishments brought Africa and Europe closer together, died during the night of October 9, 2009 after a long, severe illness. Linz09 mourns the passing of a good friend, project associate, musician, composer and human rights activist.
Keith Goddard was born in 1960. For Linz09, he developed the PARADE concept in collaboration with Peter Kuthan. He lived to experience it himself, along with the enthusiastic reception it was accorded by the many people in attendance. For three days (May 1-3), Linz encountered fascinating soundscapes from a variety of epochs and different corners of the world. This peripatetic musical excursion was intentionally routed along the urban periphery. The sounds of antelope horns, percussion instruments from Tonga, an Austrian oom-pah band and zumari horns from Zanzibar met up with Swiss alphorn players, strolling xylophonists from West Africa and master drummers from the foothills of the Himalayas.

As director of GALZ, Keith Goddard fought for the rights of lesbians and gay men and for affordable medical care for people with HIV/AIDS.

Our heartfelt condolences go out to his family, his friends and the Tonga Community. We will cherish his memory always.
see also the Linz09 website and two videos as a tribute to Keith
http://www.linz09.at/en/detailseite/news/aktuell/artikel/2783485.html
http://www.facebook.com/video/video.php?v=1129607682505
------------------------------------------------------
Keith Goddard biography
Keith Goddard (born 1960 in Bulawayo) was a Zimbabwean composer and human rights activist working for the Gays and Lesbians of Zimbabwe (GALZ). He started his musical education at the Zimbabwe College of Music and then, from 1979 to 1982, undertook the first of two degrees in music at Durham University, England, where he studied composition under David Lumsdaine and later John Casken. During this time, he produced a number of tape pieces and vocal and instrumental compositions including a piano concerto. In 1982, he won the Durham Music Department's prestigious award for services to contemporary music, when he wrote
Afterthought
as electroacoustic work and
Red Fox
as instrumental/vocal work for unaccompanied choir.
On returning to Zimbabwe, shortly after the country's independence, Goddard was commissioned by the National Symphony Orchestra of Zimbabwe to write a piece which brought together for the first time the country's European orchestra and African choirs from the townships. The resulting work, Kutamba, based on choral compositions by Basil Chidyamatamba, formed the focal point of the orchestra's 1983 concert season. Goddard returned to Durham in 1985 to complete an MA in composition, again under John Casken.
In 1986, whilst on leave in Zimbabwe, Goddard met up with distinguished ethnomusicologist, Paul Berliner renowned for his book, The Soul of Mbira, and he became Berliner's de facto taxi driver as Berliner introduced him to numerous mbira players and other musicians. It was around this time that he also made contact with another distinguished African music researcher and musician, Andrew Tracey, whose father, Hugh Tracey, founded the International Library of African Music ILAM in Grahamstown, South Africa.
For about ten years, Goddard largely abandoned music composition in favour of research and the promotion of the work of Zimbabwean musicians and instrument makers. To this end, he founded KUNZWANA Trust in 1991. For three years he travelled the world with Zimbabwean musicians, in particular with the Bulawayo-based imbube group, Black Umfolosi. In 1994, KUNZWANA hosted the 12th Southern Africa Ethnomusicology Conference in conjunction with the newly formed Ethnomusicology Programme of the Zimbabwe College of Music. The festival, Houses of Stone, brought together over one hundred researchers from various parts of Africa and elsewhere and an equal number of musicians from West and Southern Africa, Canada, the United States and Europe.
Starting in 1989, Goddard assisted with the making of a number of documentaries on Zimbabwean music, in particular that for the 1991 BBC series, On the Edge of Improvisation, directed by Jeremy Marre.
Listening to the recordings made by Hugh Tracey in 1957 in the Zambezi Valley bordering Zimbabwe and Zambia, Goddard was struck by the contemporary feel of some of the music of the Batonga people living in the area. This brief introduction led him to visit the area and develop a special relationship with the BaTonga people on both sides of the Zambezi River.
The Tonga play one of the 'big' musics of Africa, ngoma buntibe (known in Zambia as budima) in which musicians play between five and seven drums of differing sizes and thirty or more individual animal horns (nyele) whereby each contributes his or her note to the overall texture in a manner somewhat reminiscent of changeringing.
Ngoma buntibe has much to do with acoustic space and its sound would not seem out of place in any Western contemporary music setting. It is this quality that led Goddard to introduce ngoma buntibe to Austrian composers Peter Androsch, Klaus Hollinetz, Lukas Ligeti and Werner Puntigam which resulted in the electro-acoustic composition project, Six Reflections on Tonga Music. This project also formed part of the 1997 Festival der Regionen during which the artist collective Stadtwerkstatt from Linz led the thirty-strong ngoma buntibe group, Simonga, in a six days expedition over the Totes Gebirge mountains in Upper Austria.
Goddard's contribution to the composition project was a joint work with Klaus Hollinetz, The Monolith, which reflects on Goddard's relationship with the BaTonga and their culture. A companion work, an installation, Wounded Earth, again realised in conjunction with Klaus Hollinetz, was first performed, along with The Monolith, at the 1998 Osterfestival in Tirol. The Six Reflections on Tonga Music were also presented at the OK Centrum für Gegenwartskunst in Linz in 1997 and at the Hörgänge Festival at the Konzerthaus in Vienna in 1998.
In 1996, Goddard produced the score for the acclaimed Zimbabwean feature film, Flame, by Zimbabwean Director, Ingrid Sinclair, which won for him and Zimbabwean singer and composer, "Chinx" Chingaira, the coveted South African M-Net Film Award that year for best music in Africa for a feature film.
Over the years, the Tonga and their music have been the focal point for a wider cultural exchange programme between KUNZWANA and the Austria Zimbabwe Friendship Association / AZFA, founded by Peter Kuthan. The programme, which began with a visit by the Austrian duo Attwenger to Zimbabwe in 1993, has in recent years broadened into the Tonga.Online ICT / Media for Development project in the Binga area (www.mulonga.net) which has won an Award of Distinction at Prix Ars Electronica 2004.
In 2002, Goddard has been asked by Artists in Action in Harare, to compose the score for the first opera in vernacular Shona language entitled 'Tapiwa' but the project failed to take off due to the deepening economic and political crisis in the country.
In November 2006, Goddard was commissioned jointly with Peter Kuthan to contribute to Linz 2009 - the European Cultural Capital in 2009 – with the concept of Parade, an artistic-musical project.
see: www.linz09.at/parade-blog